President Donald Trump and other NATO leaders are obviously at odds over how much an increase they've committed on military spending following an emergency meeting of the leaders of NATO member states called by Secretary General Jens Stoltenberg after Trump had reportedly threatened to pull the U.S. from the alliance.
As the meeting ended, President Trump told the waiting media "Everyone has agreed to substantially up their commitment. They're going to up it to levels that they've never thought of before." But other NATO leaders, including Canadian Prime Minister Justin Trudeau, responded by saying that no such agreement had been reached. And French President Emmanuel Macron and Italian Prime Minister Giuseppe Conte said they are committed to each spend 2 percent of their GDP on defense by 2024, as they have previously agreed. No concrete plans were offered for further increases in spending, and in a joint statement released after the summit the goal remained at 2 percent – not the 4 percent President Trump demanded.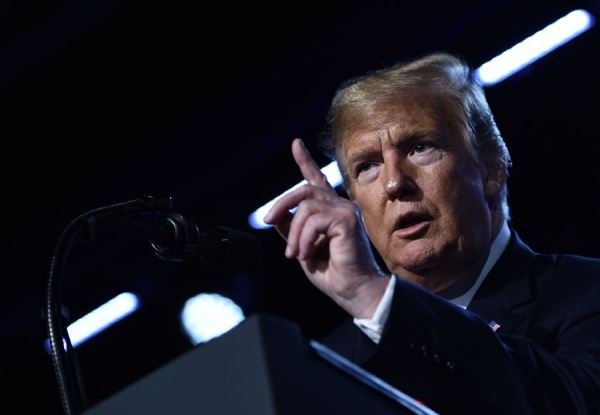 U.S. President Donald Trump addresses a press conference on the second day of the North Atlantic Treaty Organization (NATO) summit in Brussels on July 12, 2018. [Photo: AFP/Brendan SMIALOWSKI]
"Apparently the communique issued by the NATO partners which he signed reiterated NATO's commitment to a past particular goal of increasing NATO countries' expenditures on their defense budget by 2 percent in or around 2024," said Thomas Pickering, the former U.S. ambassador to Russia.
American experts have said that the differences between how President Trump and his allies view the outcome of the summit are a sign of ongoing disagreements between the United States and the other NATO members, and it appears the meetings weren't as fruitful as President Trump claimed they were.
And although America's NATO allies held their tongues on the issue of whether the United States threatened to withdraw from the defense pact, some people still believe that President Trump raised this possibility, with many media reports using the word "bully" to describe the president's approach. While Trump is not the first American president to complain about the defense budgets of other NATO members, he is the first to threaten to withdraw from the alliance.
As President Trump prepares to hold talks on Monday with Russian President Vladimir Putin in Helsinki, some European diplomats have revealed that America's European allies have been completely excluded from the preparations for the meeting. They have issued a warning that Europe should be preparing for a worst-case scenario, such as a freeze on military exercises in Europe or the withdrawal of American troops from the Baltic states.
Some observers in the United States are concerned that Trump has already offered too many concessions to President Putin in order to achieve his long-sought after rapprochement with Russia. Brian Klaas, a fellow in global politics at the London School of Economics, warned during an interview with CNBC of a global shift in geopolitics more consequential than any foreign policy shift since the end of the Cold War if Trump keeps savaging America's historic allies.
A Washington Post article pointed out that President Trump doesn't realize the benefits that come from the country's pivotal position in many international organizations. Professor Bethany Berger at the University of Connecticut School of Law said in an article for the newspaper that "America first" should not mean "America alone".